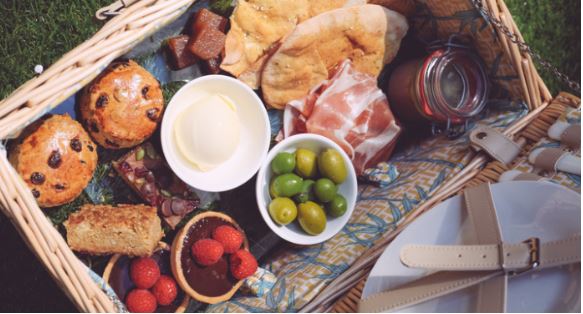 Sun-drenched days and the whiff of freshly cut grass and rolling canola fields scream perfect picnic weather. Make the most of the warmer weather by getting out your picnic basket and enjoying an al fresco feast!
Packing a picnic is all about having a variety of snacks to enjoy in the sunshine. You'll want to include easily packaged goods that don't spoil easily.
Also remember to include a few ice packs so you won't have to leave your favourite popsicle at home!
1. Packing your hamper
Once you've chosen your basket, line it with ice packs or frozen bottles of water. Pack wet wipes, a bottle opener, a tray on which to serve drinks, napkins, salt and pepper for seasoning, and serving spoons.
Now that you've got the basics down, you can settle into a shady spot and serve up with confidence.
2. Centrepieces
Set out a filling main, like these scrumptious creamy onion tartlets with a herb drizzle or these tasty mini tomato and chevin tarts.
3. Provisions
Load up on portable snacks and nibbles. Think curried chicken Scotch eggs, spinach and feta empanadas and cheesy parmesan chips dipped in bacon guacamole. Pack a crunchy bruschetta and pair with this exotic mushroom and bacon pâté or this spicy fig and plum chutney.
4. Layer up on salads and sides
For a refreshing bite, tuck into this smoked chicken pasta salad with a chipotle mayo dressing or this delicious nachos salad.
5. Sweet treats
Satisfy your sweet tooth with these no-mess yoghurt orange tarts, mini blueberry and ricotta cakes, pecan-pie cheesecake bars and mouthwatering popcorn choc-chip cookies.
6. Thirst quenchers
Pack something to sip on in the sprawling sunshine. Enjoy family-friendly options like lemongrass ginger beer or go boozy with this pineapple mojito.