While there's no shortage of places to stay in Madrid, few hotel spaces can date their roots back to the 19th and 13th centuries—save for Palacio de los Duques, one of the newer Gran Melía properties in the heart of Madrid. Ideally situated at the western end of the Gran Via, this historic property's backstory is just as impressive as its current offerings. Comprising two separate buildings, a former 13th-century convent and a 19th-century palace, this centrally-located property is perfect for art lovers, cocktail aficionados, and wellness-forward travelers alike.
Also… it look like this inside:
In addition to numerous Diego Velázques reproductions scattered around the hotel's common areas, a few original pieces (donated by the Prado Museum) are also lurking around the property's interior. Simply post up with a book in the common area, grab a coffee, and take in the overall grandeur of the hotel's main space.
Hey, it's no visit to the Prado Museum itself, but it's certainly a more relaxing experience.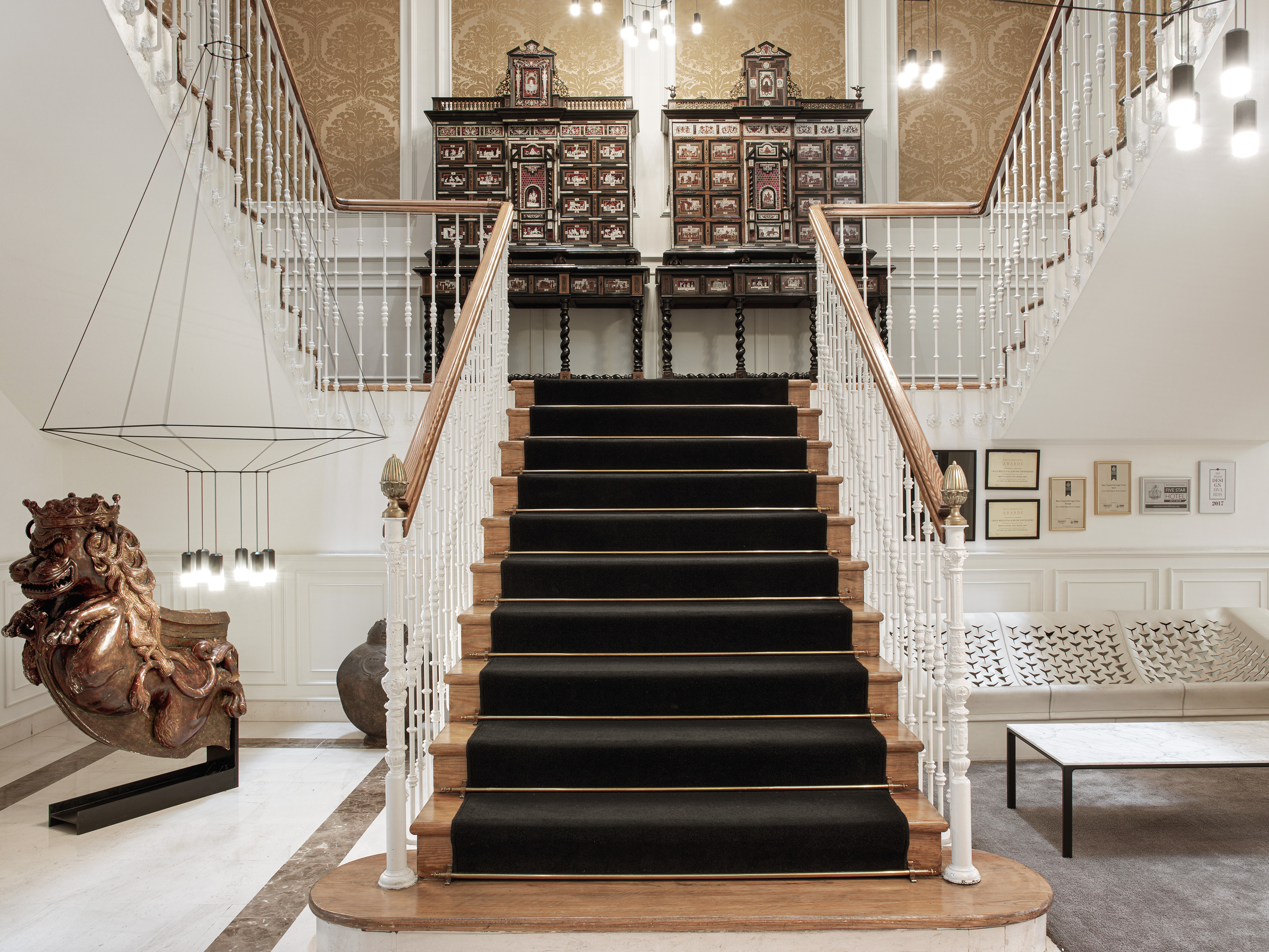 With regards to F&B, while I definitely recommend taking in the city's remarkable culinary scene, skipping the Palacio's on-site offerings would be a serious miss—especially if you can get a res at Dos Cielos. Grab a craft cocktail at the lounge bar (I enjoyed the Palacio, made with bourbon, gin, and mint, though the Spanish Mojito made with mint, Manzanilla sherry, and lime looked equally refreshing) before exploring, then indulge in a nightcap at the hotel's rooftop bar (PX Martini crafted with Pedro Ximenez sherry and gin, anyone?)
For those looking to sweat it out the next day, the hotel's 24-hour fitness center offers Technogym equipment, as well as complimentary granola bars, fruit, tea, and clean towels.
WHY IT'S AWESOME:
Palacio de los Duques is home to 180+ rooms across numerous tiers, rendering the hotel accessible to a variety of price points and personal preferences. Guests in RedLevel suites will enjoy a more boutique experience, including private check-in and check-out, as well as access to a special à la carte breakfast, a private lounge area with a private garden, and more. Although I didn't really partake in the tapas aside from a few salty almonds and chips, the all-day Nespresso machine was a lifesaver.
Most importantly, the hotel's central location makes it easy to access nearly every neighborhood in Madrid, making exploring the city incredibly easy—though with a hotel of this standard, it's quite tempting not to leave. The downstairs lounge space is spacious and stunning, offering a great place to get some work done or simply enjoy a coffee in peace, and while many on-site spas at hotels often fall short, the RedLevel spa is exquisite.
IN-HOUSE FOOD + DRINK
Come for the room, stay for the food and beverage. Palacio de los Duques is home to three on-site restaurants: Coroa Royal Gallery & Garden (tapas with a view), Vinoteca Montmartre Restaurant (French-Spanish fusion), or Restaurant Dos Cielos, a sustainable-forward restaurant spearheaded by the award-winning Torres Brothers.
While I didn't have a meal at Dos Cielos, my meal at Coroa Royal Gallery & Garden was delicious, especially enjoyed al fresco. As a vegetarian, the menu items I enjoyed most were the vegetarian taco made with black beans and sweet potato, the fresh garden salad made with frisée, artichoke hearts, and asparagus, and some form of stuffed/rolled pasta (think similar to manicotti) drenched in a thick green sauce and topped with spinach and pickled onions. To kick off the meal, I started with a glass of Fino sherry to break up the cocktail drinking a bit, though Coroa's vast array of still (non-fortified) Spanish wines by the glass—including the Terras Gaudas Albariño and Gran Caus Rosado from Penedès—were equally tempting.
In addition to the rooftop pool bar, the hotel's lounge bar boasts an impressive list of craft cocktails, mixed up by some of Madrid's best mixologists. Choose from modern twists on a number of classics, including the Wild Cosmo, made with blueberries, lime, vodka, and triple sec, or a Spiced Mule made with spiced vodka, lime and ginger beer. As it was late, and my sweet tooth was kicking in, I opted for the Tiramisù, made with vodka, hazelnut liquor, vanilla, and coffee. Regardless of what you choose, the only thing that promises to up-show your drink is the 360-view of Madrid by night.
Lastly, Palacio de los Duques' breakfast buffet is arguably one of the best I've ever seen, offering an array of hot, cold, and made-to-prepare items. Standard breakfast offerings (scrambled eggs, crispy bacon, sausage, pastries, and more) are available, as well as an array of freshly squeezed juices and smoothies. Seeing as I was slightly hungover, I opted for a massive green juice and two cappuccinos. Next time, I'll make sure I'm in better form to enjoy all that the breakfast has offer.
AMENITIES:
Excellent location
On-site cocktail bar and restaurant with outdoor patio
Large variety of room types
On-site spa / wellness center
Rooftop pool
Free Wi-Fi throughout the property
Excellent breakfast buffet (included with certain reservations)
24-hour gym
Room service
Airport transfers available
ROOM TYPES
While I stayed in a Suite Junior RedLevel, which came equipped with a separate table/sitting area for working, there are both smaller and larger options at the hotel. For an upgrade, you can get the same room with a balcony, or spring for a Suite RedLevel with a separate bedroom—with Master and Penthouse options also available.
For those traveling more modestly, Classic, Premium, and Supreme rooms make for great—and more affordable—options. A single queen-size bed or two individual bed options are available within these tiers.
THE BEST THING TO DO WITHIN A 15-MINUTE WALK:
For hipster coffee shops, vintage shopping, and great nightlife, head up to the bustling Malasaña neighborhood, located less than ten minutes away from the hotel on foot. Despite its proximity, the neighborhood couldn't be more different than the busy, Opera-adjacent area where the hotel is found. I grabbed a cappuccino at Töto Ice Cream & Coffee for prime people watching, though definitely skipped on the latter (it was 10 AM, otherwise I would've been in).
Should you visit the neighborhood on the weekend, be sure to check out the neighborhood's weekend market in between shopping and bar hopping, or even an outdoor movie at the Conde Duque, should the weather permit.
BEST THING TO DO/EAT/DRINK WITHIN A $20 CAB RIDE: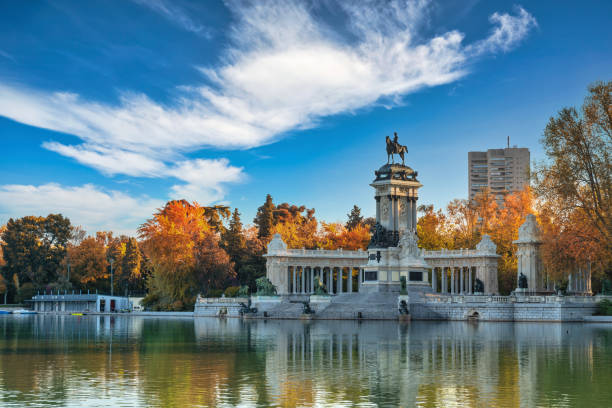 For a taste of the urban outdoors, there's no better place to stretch your legs and grab some fresh(ish) air than Parque de El Retiro. Simply post up with a book, stroll around the reservoir, or grab an ice cream at one of the centrally located stands and enjoy. If you're feeling sporty, hit the Canoeing Club Vallehermoso Retiro in the center of the park and enjoy some time on the water.
Pro tip: Exit the park to the north and enjoy the ritzy shopping / cafés / fine dining in the city's Salamanca neighborhood. The neighborhood has a little bit of everything, from Zara Home and Aesop all the way to Chanel and Balenciaga. Also, grabbing a world-famous tortilla at Casa Dani (washed down with an Estrella, of course) is an absolute must.
BED GAME:
Perhaps it was because I was hungover AF, but truly, I could have died in the bed at Palacio de los Duques. The pillows offered a perfect balance between structure and fluff, and with the AC cranked up to the max, I was able to burrow beneath the massively thick comforter.
Rating: 10/10.
SEXINESS RATING:
While the comfortable beds, rooftop access, and downstairs cocktail bar—as well as the on-site spa—are perfect lead-ups to getting "in the mood," the rooms' outdated decor and lack of stellar views (at least in the room I stayed in) render it an attractive experience, though definitely not the city's sexiest.
Rating: 7.5/10
THE VIEWS & PICS SPOTS:
The picture speaks for itself – the views here are pretty great, although certain corners of the rooftop look over some of the city's more industrial areas. We recommend facing the lit up, palatial-like architecture (as seen here) and enjoying them from a poolside lounge chair, or even from the pool itself. Cocktail in hand preferred.
Rating: 9/10
BEST SEASON TO VISIT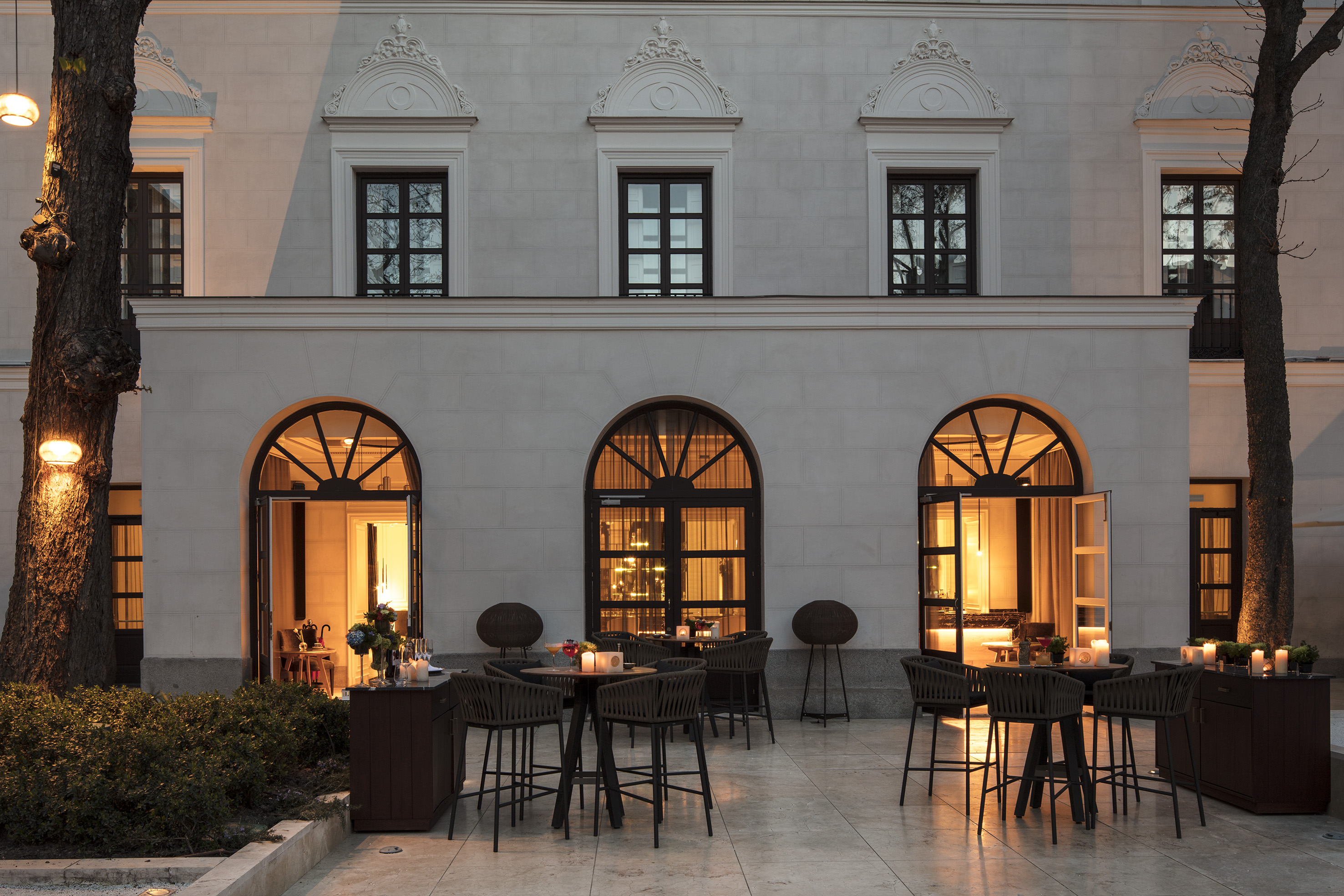 As with many European cities, the fall and spring seasons offer the best conditions temperature-wise, as well as a lack of crowds. While the hotel's ample air conditioning offers a perfect reprieve from scorching summer temperatures, exploring around the heated city streets are certainly not for the faint of heart.
IF I HAD TO COMPLAIN ABOUT ONE THING:
It's hard to find a complaint about the Palacio de los Duques. The rooms are spacious, the on-site food and beverage options are delectable, and I truly had one of the best massages of my life at the RedLevel spa.
I will say that the in-room decor is quite outdated, and the hotel's unique layout can make it confusing to get around, but overall, these are peanuts compared to the excellent amenities and unforgettable hospitality.
BOOK NOW:
Expect to pay between $340 for a standard room, $579 for a RedLevel Room, and $660-$1,200 for various levels of suites.
INSTAGRAM IMAGES TAKEN AT THE PALACIO DE LOS DUQUES HOTEL: