Nollywood actor, Seun Jimoh has questioned the rationale behind women who date married men despite leaving their husbands over infidelity.
Taking to Instagram to share his observation, Seun said he has seen several cases of women divorcing their husbands because he cheated, and then proceeding to date a married man after getting divorced.
According to him, he doesn't understand why such women would engage in an act that they once opposed.
He wrote,
"I really don't understand why a woman will leave a woman for cheating and start dating a married man when she becomes single.
I have seen this happen on a few occasions and it just leaves me baffled . Somebody make it make sense 🚶🏾‍♂️"
See below,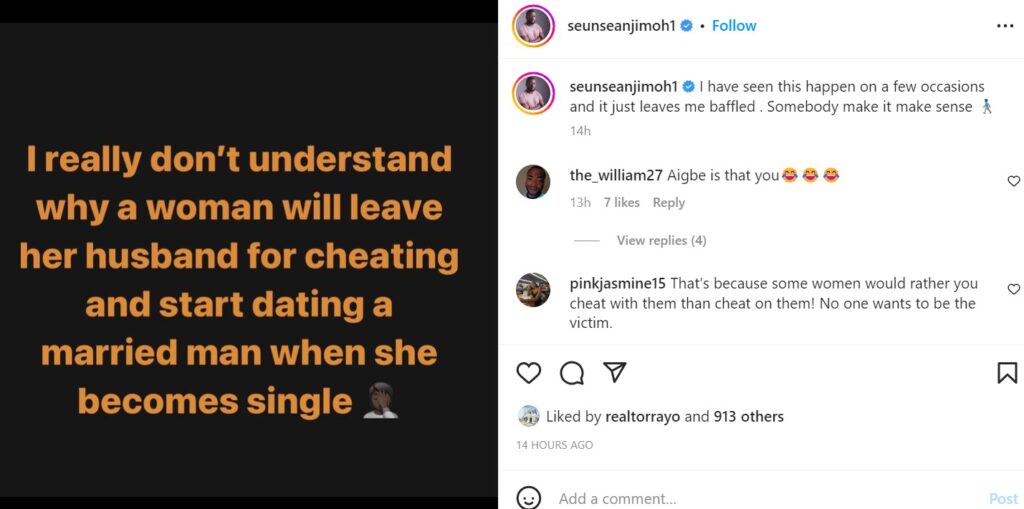 His post has sparked varying responses from his fans and followers who attempted to explain why divorcees date married men.
@og_omiliki wrote, "It's women supporting women. Dem do me I must do another man wife. Cycle of betrayal!"
@sir_eltee wrote, "Another woman destroyed her marriage and she wants to destroy another persons marriage. It could be about revenge lol"
@pinkjasmine15 wrote, "That's because some women would rather you cheat with them than cheat on them! No one wants to be the victim."
@itz_damilolar wrote, "But you men, must you cheat, why would you leave your wife at home, and go out to sleep with another woman even with kids"

source : www.yabaleftonline.ng