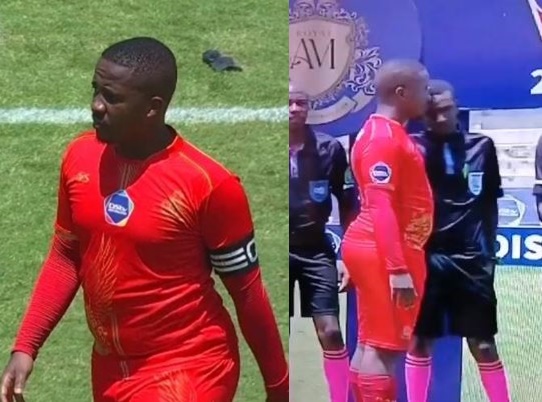 Andile Mpisane trends on social media following Royal AM football match over the weekend.
Andile who is the chairman of the football club played on the football pitch but got switched with another player during the match.
It was reported that the chairman was not happy with the coach's decision and a video revealing his countenance surfaced on social media.
While people lamented about his football skill, a large number of people poked fun at his body.
Social media users urged him to focus on losing weight.
Watch video and see other reactions below:
Andile Mpisane is taking the body positivity way too far 💀💀😳

He is way unfit and overweight to be playing professional soccer😬😬 pic.twitter.com/eTytSIbgrX

— TK_Nala 📚 (@NalaThokozane) February 4, 2023
Chairman and Captain of Royal AM Andile Mpisane looked unhappy after he was substituted in thier draw agians Amazulu.

Visuals : supersport pic.twitter.com/Dfl8LxNIqY

— News Live SA (@newslivesa) February 5, 2023
Andile Mpisane. Is like, "why me? Do you have a problem with me? Didn't mom give you a raise? I'll tell mom to fire you" 🤣🤣🤣 pic.twitter.com/FjSwarDwkU

— Family (@TheBoyDAD) February 5, 2023
I can't believe in this country we are ridiculing Andile Mpisane for having a mother who can give him whatever he wants!

— Sibo Siyanda Nene (@Sibo_Nene) February 4, 2023
Andile Mpisane must consider playing rugby instead of soccer. A soccer player with a big stomach🤔 pic.twitter.com/zZQ5Kl3Im2

— Lunga (@LLunga18) February 5, 2023