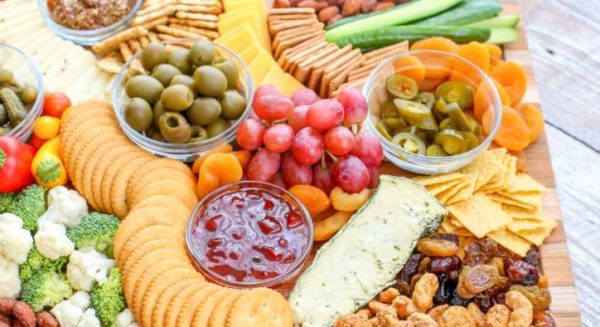 A cheese board is a welcome addition to any party, gathering, or snack table.
These tips I'm sharing today are going to make it easy for you to pull together an easy cheese board with little more than what you might find in your refrigerator or freezer.
It's easier than you might think to pull together a crowd-pleasing beautiful cheese board in just a few minutes relying on kitchen staples and familiar ingredients.
And with a few special ingredients on hand, you'll have a cheese board at your fingertips for any possible occasion.
Simple Cheese Boards
Pick 2-3 cheeses, a handful of different crackers, some fruits and vegetables, pickles and olives, a little dish or jam or mustard, and you're almost done.
Family movie nights, date nights at home with Sean, two-handed coffee mornings, or a quick lunch with friends? A cheese board is almost always my answer to the "what should I serve?" question.
When you have a last-minute dinner guest or an unexpected visit from a friend, learning to pull together a basic cheese board in just a few minutes can save the day.
Enjoy as a pre-dinner appetizer alone, alongside other appetizers or hors d'oeuvres or a centerpiece for a picnic lunch. Bacon wrapped dates are a delicious addition.
The serving possibilities are endless.
Keep it basic! Every cheese board doesn't need to have every single ingredient on it. Sometimes the most basic cheese boards are my favorite.
Arrange the cheese around the board. Next, add the crackers.
Add little bowls or piles of pickles and olives. Add tiny dishes of jam and/or mustard.
Fill in the gaps with fresh vegetables, fresh fruits, dried fruits, and nuts.
Crackers for a Cheese Board
The crackers don't need to be fancy. Whatever you have in your pantry is likely to do. Ritz crackers are a fantastic vehicle for most kinds of cheeses, as are woven wheat styles of crackers (like Triscuits), and water crackers.
If you happen to have a baguette or another type of crusty bread around, you can certainly add it to your cheeseboard. But there's no need to bake bread or make a special trip to the bakery just for your board. Remember–we're aiming for simple!
Savory oat crackers topped with creamy brie and sweetly spiced jam are delicious little bites your guests can create from items on the board.
Fruits and Vegetables for a Cheese Board 
Adding fruit to your cheese board isn't strictly necessary but it is a nice way to balance out the salty flavors of cheese and crackers with something sweet.
Grapes, apple, and pear slices are traditional but strawberries, raspberries, and blueberries would also be tasty additions to your cheeseboard.
Nuts for a Cheese Board
Nuts make a cheese board feel just a little extra special somehow. Almonds, cashews, and walnuts are wonderful choices. Choose a roasted and salted variety or your favorite candied, sugared, or other specialty nuts.
Just about any variety of nuts can add the perfect blend of sweetness, saltiness, and crunch to a cheese board. Candied Walnuts, Cinnamon Roasted Pecans, and these Ginger Honey Roasted Almonds are a few of my personal favorites. (These Smoked Almonds are on my list to try soon!)
Assembling a cheese board really doesn't require any special knowledge or high-brow expensive cheeses and meats.
In most cases, you can pull together a tasty board that everyone will love using ingredients you already have in your kitchen.

source : fakazanews.com