Media personality, Tolu Oniru-Demuren, better known as Toolz, has thrown jabs at wicked people who hide behind the guise of religion.
The mother of two, in a post shared via her Instastory, said some people who act like Jesus fanatics on social media are evil in reality.
According to Toolz, some who write 'Jesus baby' or 'Jesus lover' on their social media bios are the worst because they act like 'Lucifer's first born'.
"It's often the ones that have 'Jesus baby' or 'Jesus lover' in their bio that act like Lucifer's first born. Please bear the name of your real dad. God bless us all sha. Amen," she wrote on her Instagram story on Wednesday.
See below,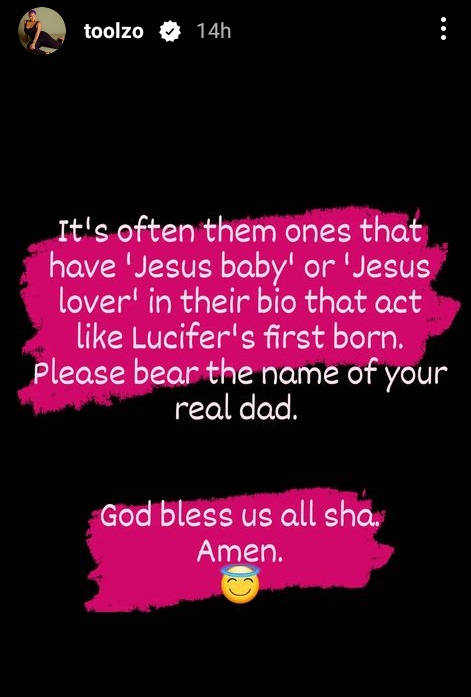 A while back, Toolz said she will never allow her kids to go for sleepovers.
The mother of two boys, who explained the reason for her decision in an Instagram post, said many bizarre things are happening in the world today and that even male children are not safe.
She said that until her boys are of age, they are not allowed to go for sleepovers.
"Someone asked me this the other day…my answer was right now NO…maybe when they're 18 or something. Too many crazy people in this world…and having boys doesn't mean they're 100% safe." She wrote.