AKA's family announced that DJ Zinhle's husband, Murdah Bongz whose real name is Bongani Mohosana will not be attending the funeral and memorial service of the late rapper.
The Forbes family released a statement announcing the details of Kiernan Forbes "AKA's" funeral and memorial service which will happen this week.
The concluding part of the statement acknowledged Murdah's family but revealed that he will not be coming for the funeral and memorial services due to observing cultural protocol.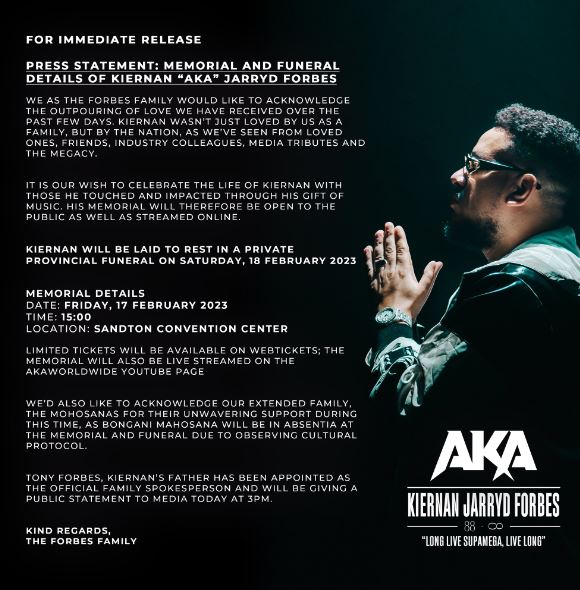 The Bongani update sparked a debate on social media and it has the DJ trending.
"In Tsonga culture, you can't attend the funeral of a person who once had sexual relations(marriage, gf/by, nyatsi, fling) with your partner. It can lead to severe sickness which results in death within a year or 2. So that is why Bongani can't attend AKA'S funeral," a tweep explained.
See reactions below:
it's the fact that they had to mention Bongani's absence because people on social media are idiots.

— la niña (@ncobyle) February 14, 2023
People on this platform can be dumb sometimes. The focus has now shifted from mourning AKA to why is Bongani not allowed to attend the memorial and funeral service, even after the family provided the reason why. Y'all be nosey and can't give the family a break #RIPKiernan

— Mamphiwa (@LifeWithMams) February 14, 2023
What cultural protocol is Bongani observing?

— Keitumetse (@KeituSeaketso) February 14, 2023
I don't think they explained Bongani's absence for the benefit of twitter people. They were publicly acknowledging his reason for his absence. You guys don't need a reason to go off anyway

— #ReSqueezengIn (@Outta_Ctrl) February 14, 2023
The family acknowledges Bongani as their extended family but men are out here writing think pieces about how his wife is disrespectful towards him, for mourning the father of her child

— LM ♡ (@LinMchunu) February 14, 2023
The post Mzansi reacts: DJ Zinhle's husband, Murdah to be absent at AKA's funeral service appeared first on .
 
Source: Soapieteasers.co.za
RECOMMENDED