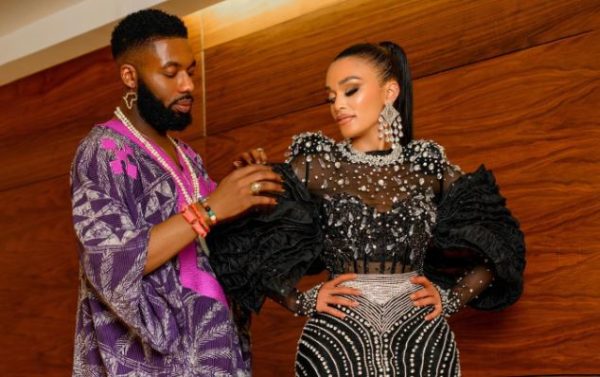 Pearl Thusi writes a sweet note to her Nigerian friend, Swanky Jerry.
Swanky is known to be a fashion designer and also starred in the Netflix African reality show, Young, Famous and African.
Jerry recently designed Pearl's dresses for an award event that took place in Lagos, Nigeria.
"My beloved @swankyjerry … Being your friend and working with you is always something that never ceases to amaze me. You'll do everything it takes to get the shot, get the content and make sure your clients feel like superstars."
The actress also talked about how he comforted her after AKA's death.
It was halfway through this shoot that I found out Kiernan had passed away. You held me up, held my hand, and carried me through the shoot and the show the following day. When I look at these videos and pictures I see so much happening in me and I can't believe that in this silence there was so much chaos yet we created all this beauty," she wrote.
Swanky Jerry replied the note with an eulogy.
"Pearl you are one special and powerful human …. Seeing you break down in the middle of this broke me … it was heartbreaking and I can't express how devastated I was …. But one person have to carry the other … I am happy I was there for you like you are always there for me … I love you endlessly… and I'm glad you held the show down and still one of the best international host ever ( host with the most …..indeed glam and clothes can hide stuff …. No one will believe the level of hurt that you fought through out this job …. BUT STILL DELIVERED.. #BOSS …"
"I wish you Gods continuous blessings… may the universe be good to you … your heart is priceless and your soul is unique… #REAL REAL ONE … I'm speechless…. Now let's rise above it all to the next level … 2023"

source : fakazanews.com