Nigerian actress, Debbie Shokoya, has set tongues wagging on the internet with her countenance at her surprise marriage proposal.
Debbie's boyfriend had asked for her hand in marriage on Valentine's Day, February 14, and she accepted, but her reaction has raised eyebrows.
Apparently, the young man planned the surprise proposal with some of her friends and also lured her to the location.
When she walked into the hotel room, which was decorated with roses and petals, she found her beau on his knees, holding out the engagement ring.
However, Debbie didn't pay much attention to her kneeling boyfriend and was more concerned about the people in the room.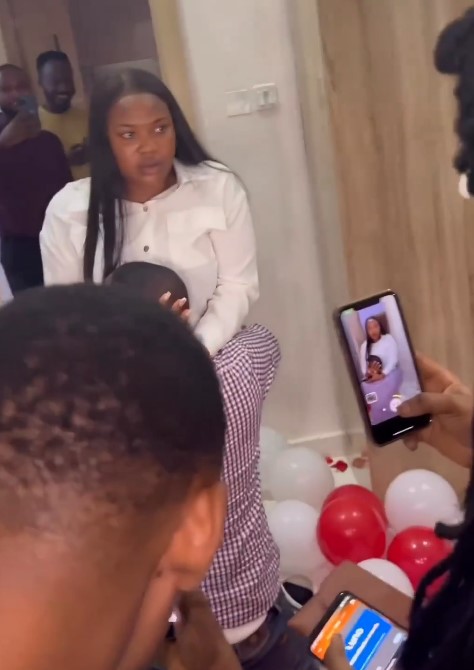 Usually, when a lady is proposed to, she will jump in excitement and perform some theatrics, especially if it is a surprise proposal, but it was quite the opposite for Debbie.
Due to her reluctance to acknowledge him, her man forcefully held her hands and slid the engagement ring on her finger, without waiting for her to say YES first.
Her reaction has sparked mixed reactions online as netizens wondered why she was not excited by the proposal.
An IG user, Teeboy wrote, "She was more concerned with who was there than person way say e wan marry u. Mad o. Not sure she wanted this at this point"
Another IG user, Bibi wrote, "it's obviously showing on her face. She no plan talk yes, she just collect the ring not to disgrace him. Man wan wear you ring u dey drag ur hand. Before man kneel down propose, u know watin em done think?"
One Abeke also wrote, "Is she ready to be married?? Cause he didn't let her say yes neither did she give him the hands willingly to put the ring. But what do I know, I'm single "
Meanwhile, Debbie has not officially announced news of her engagement on social media.
Watch the clip below,