Super Bowl Sunday is fast approaching, so you're probably getting into daily arguments with whomever you're planning your party with over where to pick up the pizzas. Sure, you could go deal hunting and just buy whatever gets you the most amount of food for the least amount of money, but if you truly love food, the obsessive way that we love food, you're probably a less concerned with the money and a lot more concerned with the flavor.
Yes, pizza is hard to f*ck up, even the worst slices are often delicious (it is melted cheese over bread after all) but great pizza is a whole other thing. Why just eat… pizza, when you can find a slice that makes you savor every bite relatively easily. You know, the sort of pizza that stops you in your tracks and leaves you musing on its various elements — "this sauce is soooo bright" "I love the crispy edges of this pepperoni!" "my god in heaven, can you believe this crust?!"
I don't know about you, but that's the kind of pizza I want to eat. But who makes the best pizza?
Well, if you live in a big city there's probably a local spot or two that absolutely dunks on all the big brands, but for the sake of universality, we decided to find out by grabbing a pepperoni pie from the three most popular national pizza chains: Pizza Hut, Domino's, and Papa Johns, and putting them to the blind taste test against our two favorite frozen pies — Screaming Sicilian's Holy Pepperoni (which won our Frozen Pizza ranking), and Digiorno Crispy Pan Pizza, a frozen pie that my editor swears by. Like our recent burger and chicken sandwich blind taste test, I took this process incredibly seriously so let's talk methodology before we talk pies:
PART I — Methodology
I push back against my editor about blind fast food taste tests a lot because I feel like for the food to have a fair chance, it needs to be hot. Even pizza. I'm aware that there are people who love a slice of cold pizza but I'm of the belief that pizza tastes best when it's still hot enough to scald the roof of your mouth. With food that is famous for being deliverable, you'd think that would be easy, and yet… it wasn't. I logged on to each respective pizza chain's website and attempted to place an order for a hand-tossed medium pepperoni pizza from each but got wildly different estimated delivery times.
That wasn't going to fly for me, so I decided to order carry out which gave me an estimated time of 9-19 minutes at each chain, and considering all three pizza places were located within blocks of one another on the same street, I could send my girlfriend to round them all up faster than any of the chains could deliver to me. Problem solved. '
And then came the frozen dilemma. The Screaming Sicilian pizza requires an oven temperature of 425 degrees, and a cook time of 17-19 mins but the Diogiorno needed to be cooked for 20-22 mins at 400 degrees. To be fair to each pizza, I couldn't cook them in the same oven, so I knocked on my neighbor's door, and explained to them the situation (twice — they didn't really understand but stopped asking questions once I offered them a bunch of free pizza and a shout out in an article).
RELATED: Shout out to Liz!!
Less than 30 minutes later, all the fast food pizzas arrived and the frozen pizzas finished cooking, so I had each slice served to me under cover of a blindfold and took a bite or two (or three, or four, or just finished the slice) of all five pizzas. Here were the results!
PART II — The Tasting
Taste 1: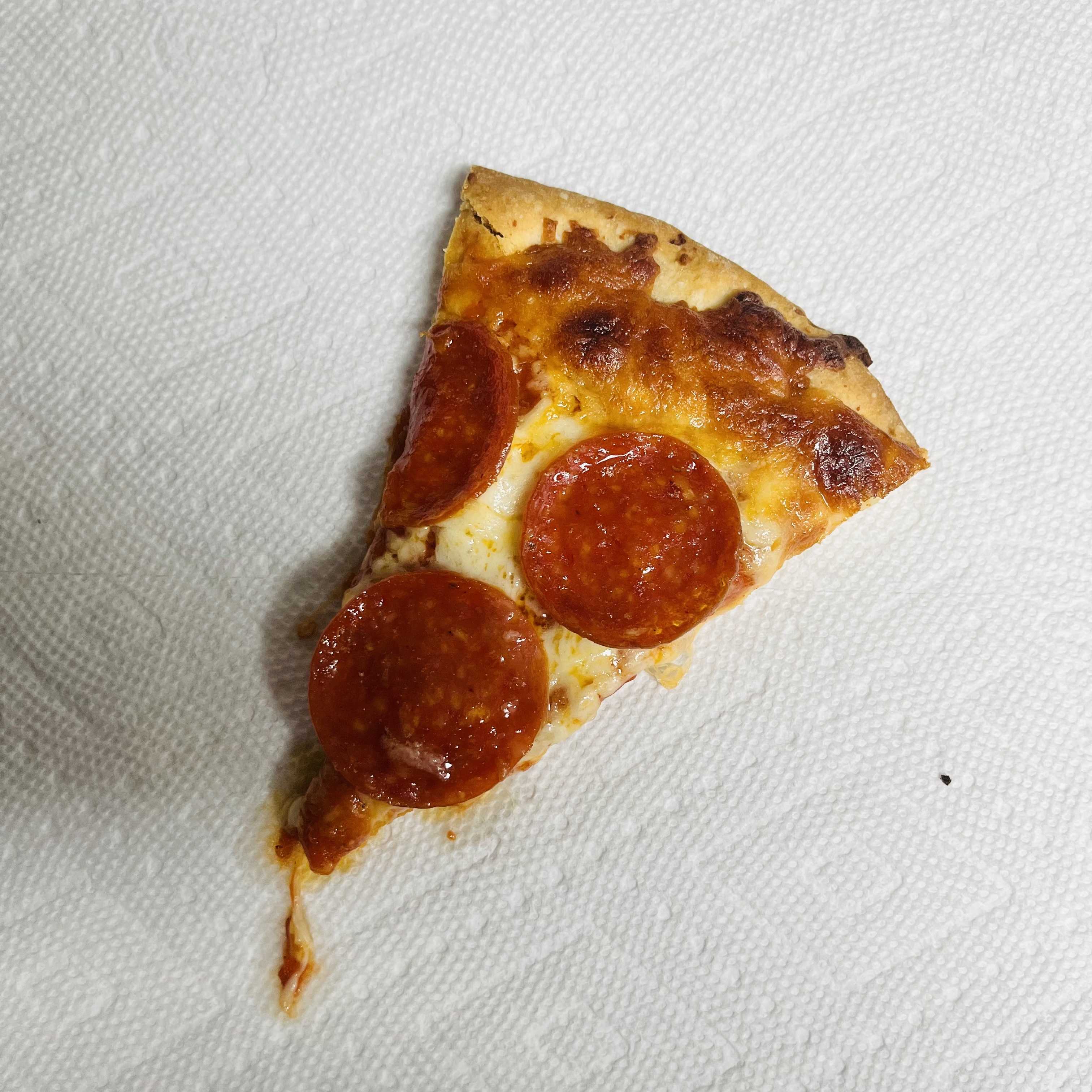 It's a frozen pizza. I know this because of the way the crust is like a cracker. It doesn't have that spongey doughy quality that a fresh pie has, there is an airiness and sort of hollow quality to it. Each ingredient feels like a separate component, the sauce has a good amount of brightness, with a simple tomato-forward flavor, the cheese has an interesting blend of salty and creamy flavors, but the real star of this slice is the pepperoni. It's thick, savory, and slightly spicey with a pepper-forward flavor that lingers on the palate.
Unfortunately, as good as these flavors are on their own, they just don't come together harmoniously. It tastes like it was made by a machine.
Taste 2:
Very interesting. There is a salty garlic flavor to this slice, it's a bit overpowering but not to the point of being unenjoyable. The sauce is herb-heavy and robust, I'm tasting oregano and some dried basil hovering over rich tomato flavors. The cheese is surprisingly creamy, and the mix of a crispy exterior and chewy innard of the crust makes the mouthfeel of this pizza excellent.
The pepperoni is a bit thin and lifeless in flavor, but everything else about this slice just works.
Taste 3: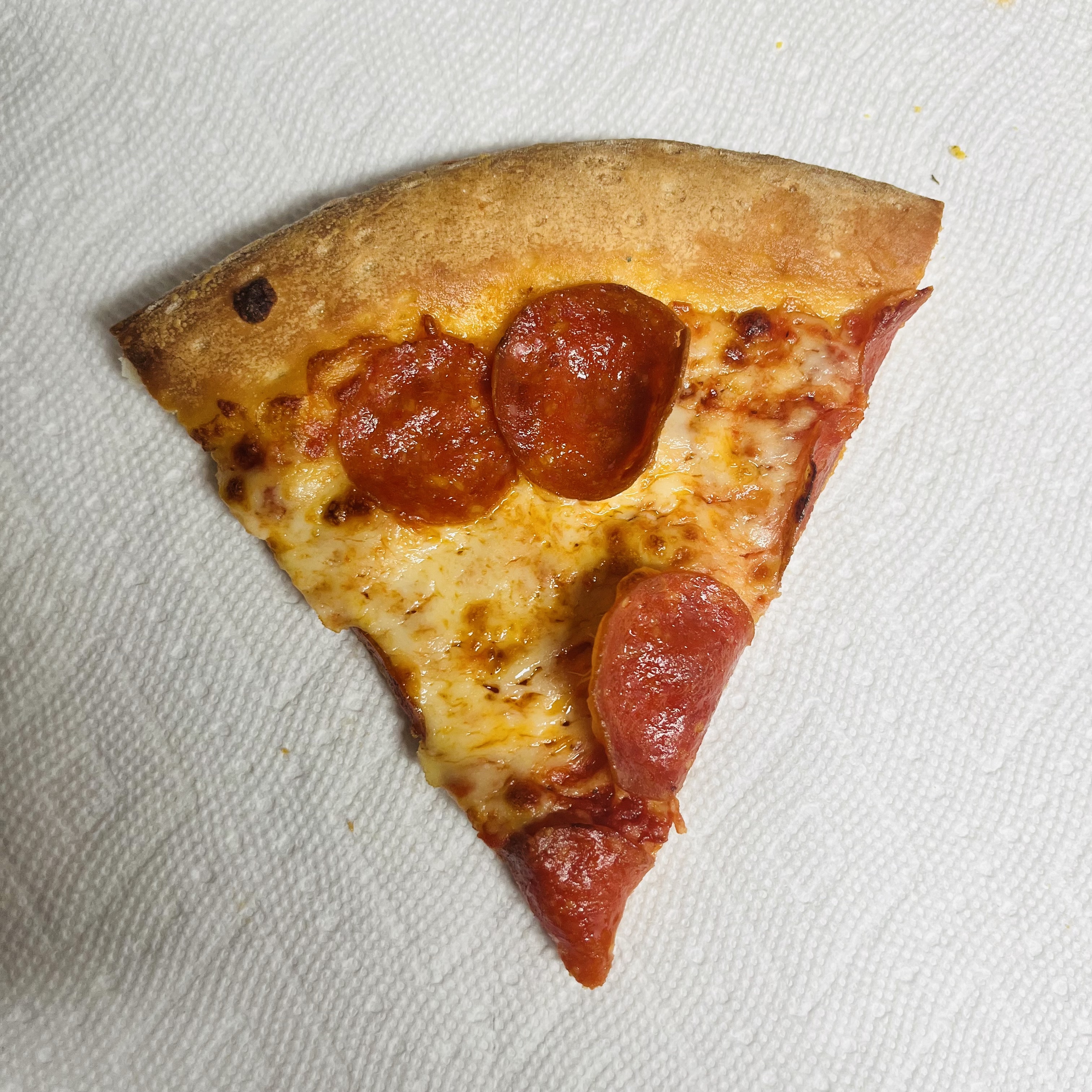 This slice has a lot of what made Taste 2 good without that garlic salt flavor. The crust is foldable and has a delicious gummy texture to it with a slightly sweet taste that plays well with the sauce. The sauce here is brighter than Taste 2, less herbal but also less distracting. I like a simple pizza sauce, and this pie has that going for it. The pepperoni also tastes better to me, it's zesty with a strong pepper-forward bite more akin to Taste 1 and has a thinner cut, making it crisp up on the edges and providing a little crunch in the mouthfeel.
The cheese isn't quite as creamy as Taste 2, it has a saltier aftertaste to it and isn't quite as melty, it's a bit more solid but that might be time working against it. Overall, this pizza manages to be thin without turning into a crispy cracker. So far it's the winner for me by a mile.
Taste 4: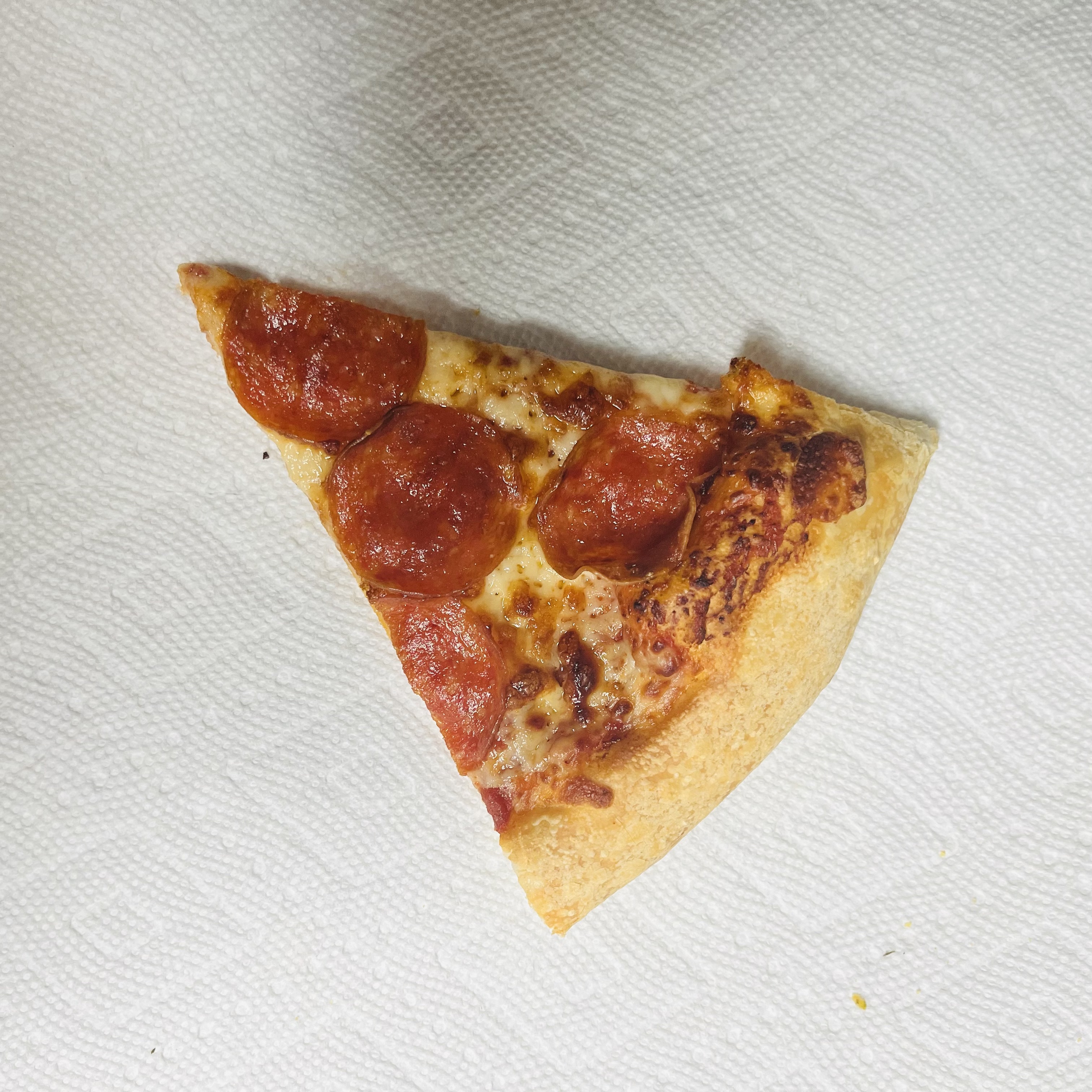 Ew, there is a middle-school lunch vibe to this pizza. Everything about it tastes so loud and obnoxious, the sauce is way too bright and distracting, it's almost ketchup-esque. The cheese is good but it's spread a bit too thin, the pepperoni is crispy and zesty but the crust is bland. I was starting to wonder if somehow my tastebuds had become exhausted so I took a few sips of water and nope, this pizza just doesn't have anything going for it really.
It comes across as tasting incredibly cheap. The only thing that makes it better than Taste 1 is the sponginess of the dough.
Taste 5:
This one was a bit of a surprise. It was incredibly greasy to the touch, almost wet, but when I bit into it I instantly fell in love with the big fluffy crust. It has a great chew to it, but the toppings just aren't really working for me. The flavor of the cheese isn't present enough, the pepperoni has a meaty texture but lacks that peppery zest of the other slices, and the sauce is fairly standard stuff, bright and a bit herbal, but nothing really outstanding.
Part 2: The Ranking
5. Screamin' Sicilian — Holy Pepperoni! (Taste 1)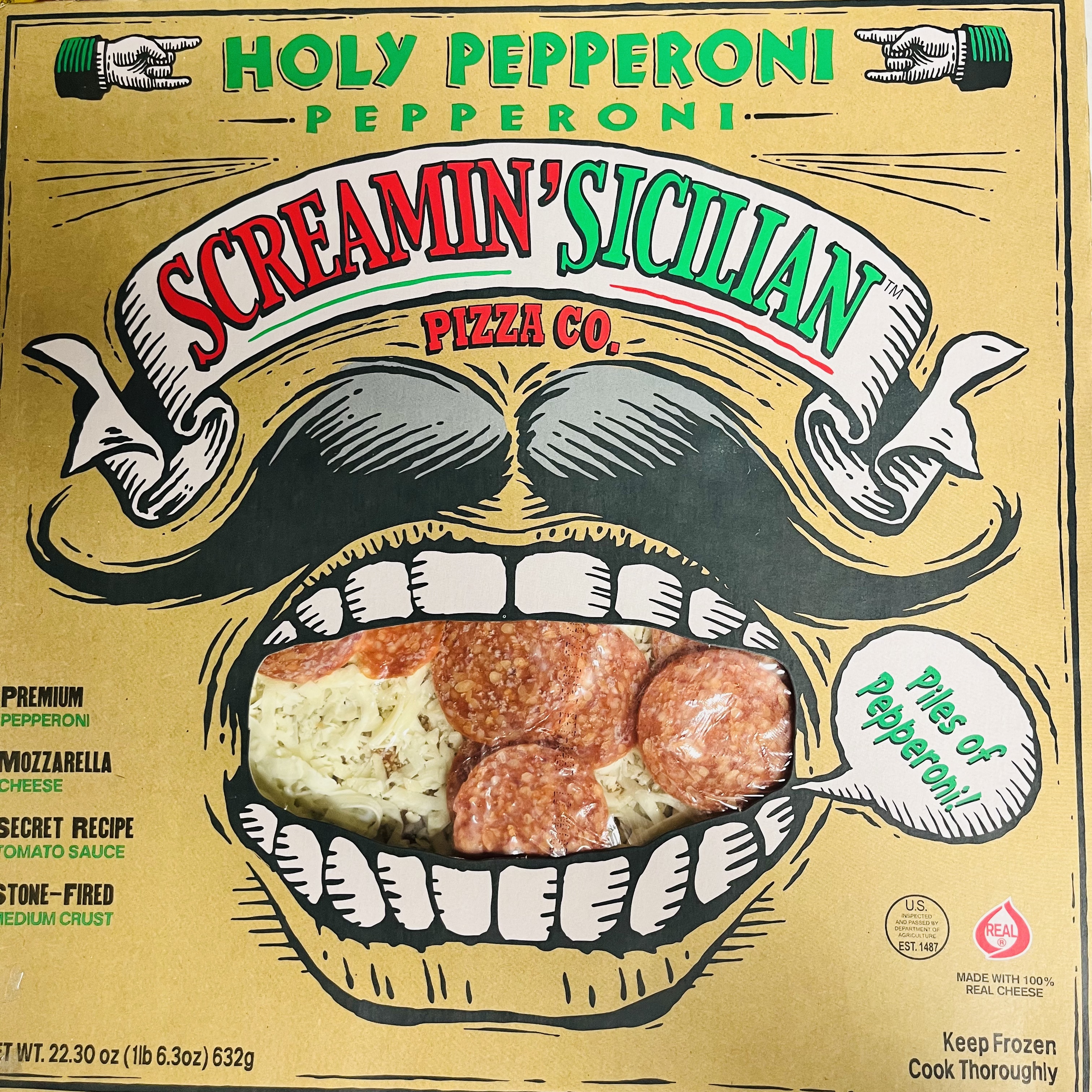 This won our frozen pizza ranking so it might surprise you to see it ranked at the bottom of the list but it doesn't really surprise me. It's frozen pizza, one of the best your money can buy, sure, but frozen pizza nonetheless. You can source the best ingredients in the world, but at the end of the day, once you freeze them they lose a certain amount of life and flavor. Screamin' Sicilian is fine on those days you have a hangover and can't be bothered to look at a screen and order a pizza, or answer the door and tip a delivery driver, but on Super Bowl Sunday?
If you show up with Screamin' Sicilian you're going to be kicked out of the party.
The Bottom Line:
One of the best-tasting frozen pizzas, but still… a frozen pizza.
Find your nearest Screamin' Sicilian here.
4. Pizza Hut — Handtossed Pepperoni (Taste 4)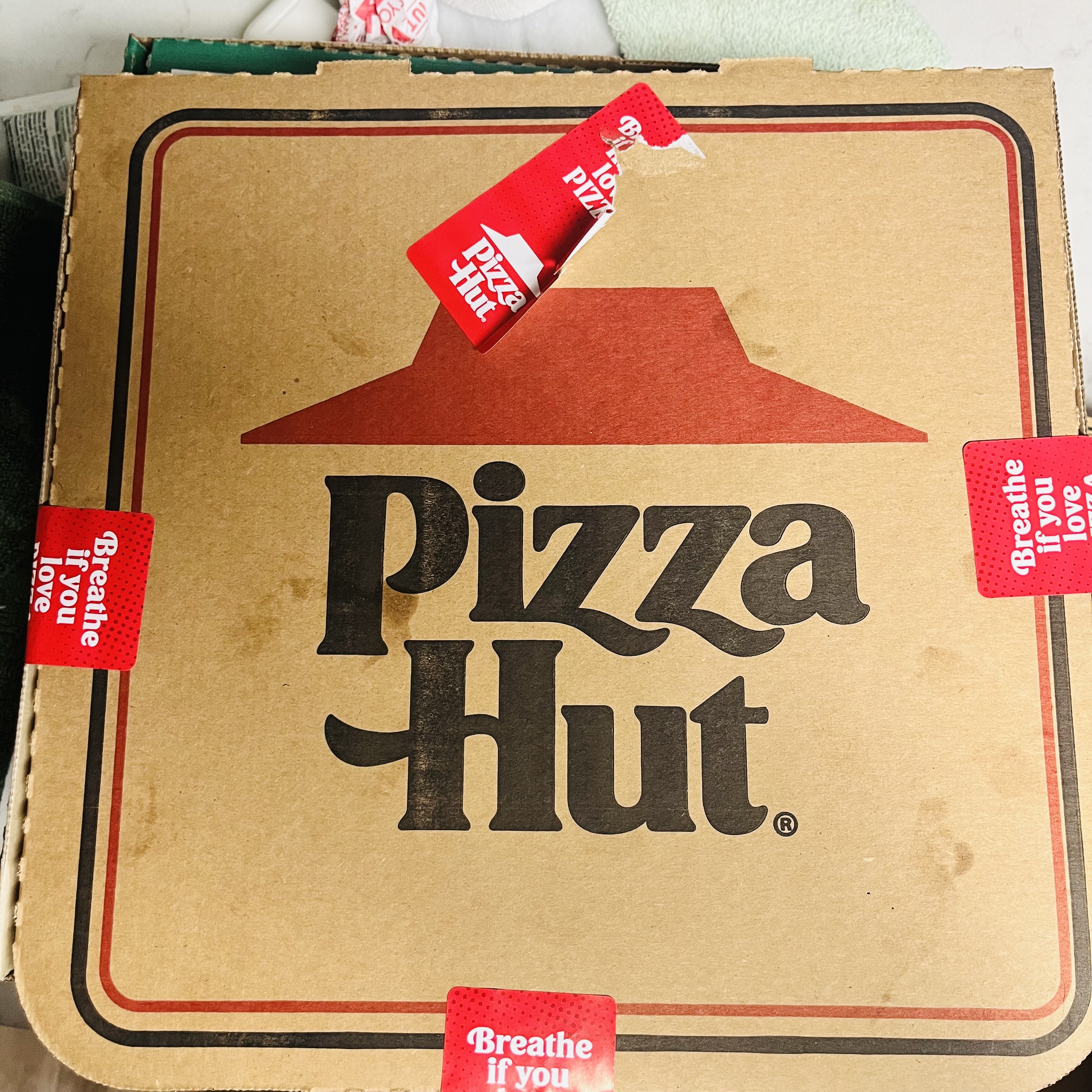 As far as I'm concerned, Pizza Hut might as well be frozen pizza. It's only saved by the crust — which tastes a heck of a lot better than the weird dry cracker-crust texture of frozen pizza. For that reason alone, it isn't at the bottom of this list but still, Pizza Hut seriously needs some work.
The worst part about this pizza was the sauce, it was so cheap and sweet that it reminded me of ketchup. Pizza sauce shouldn't taste like ketchup. Ever. EVER.
The Bottom Line:
The dough is spongey and chewy in the best way, that's about all this pizza has going for it.
Find your nearest Pizza Hut here.
3. DiGiorno — Crispy Pan Pizza (Taste 5)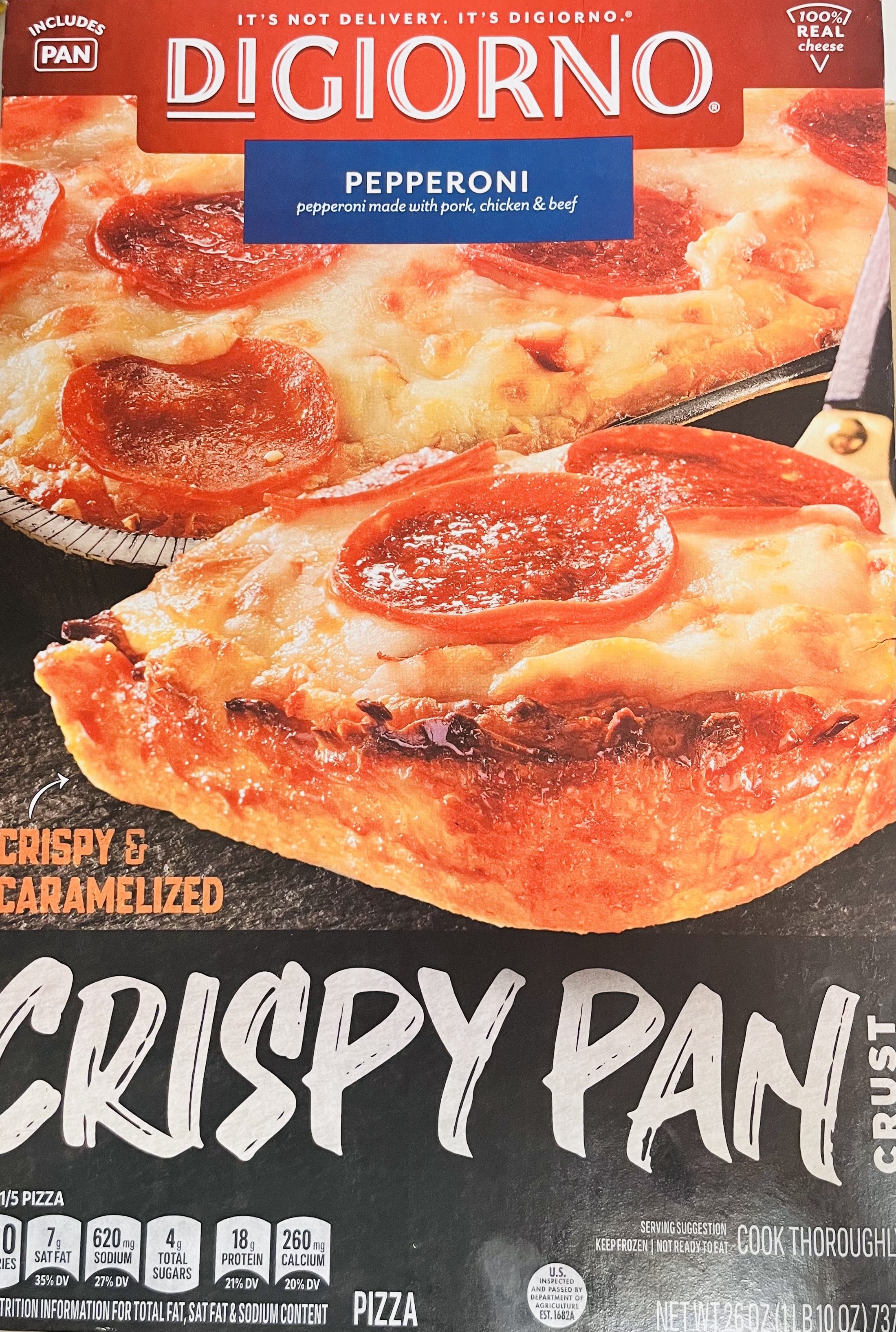 I'm shocked that this was frozen pizza. The crust had this nice chew and gumminess to it that frankly blew me away. I don't know what sort of alchemy DiGiorno has done to this pie to make it taste so fresh, but it's working!
Unfortunately, the toppings are what hold this one back from truly being great. Now if you want to top it with your own layer of cheese and some more meats, you're going to end up with a great pizza and this thing is small enough that you can probably fit about four in an oven at a single time, so it's perfect for Super Bowl Sunday.
Unfortunately, that's not how we tasted this pizza. So as it stands, it's getting the bronze medal.
The Bottom Line:
A surprisingly fresh-tasting frozen pizza. Easily the best crust of any frozen pizza ever.
Find your nearest DiGiorno Crispy Pan Pizza here.
2. Domino's — Hand-Tossed Pepperoni (Taste 2)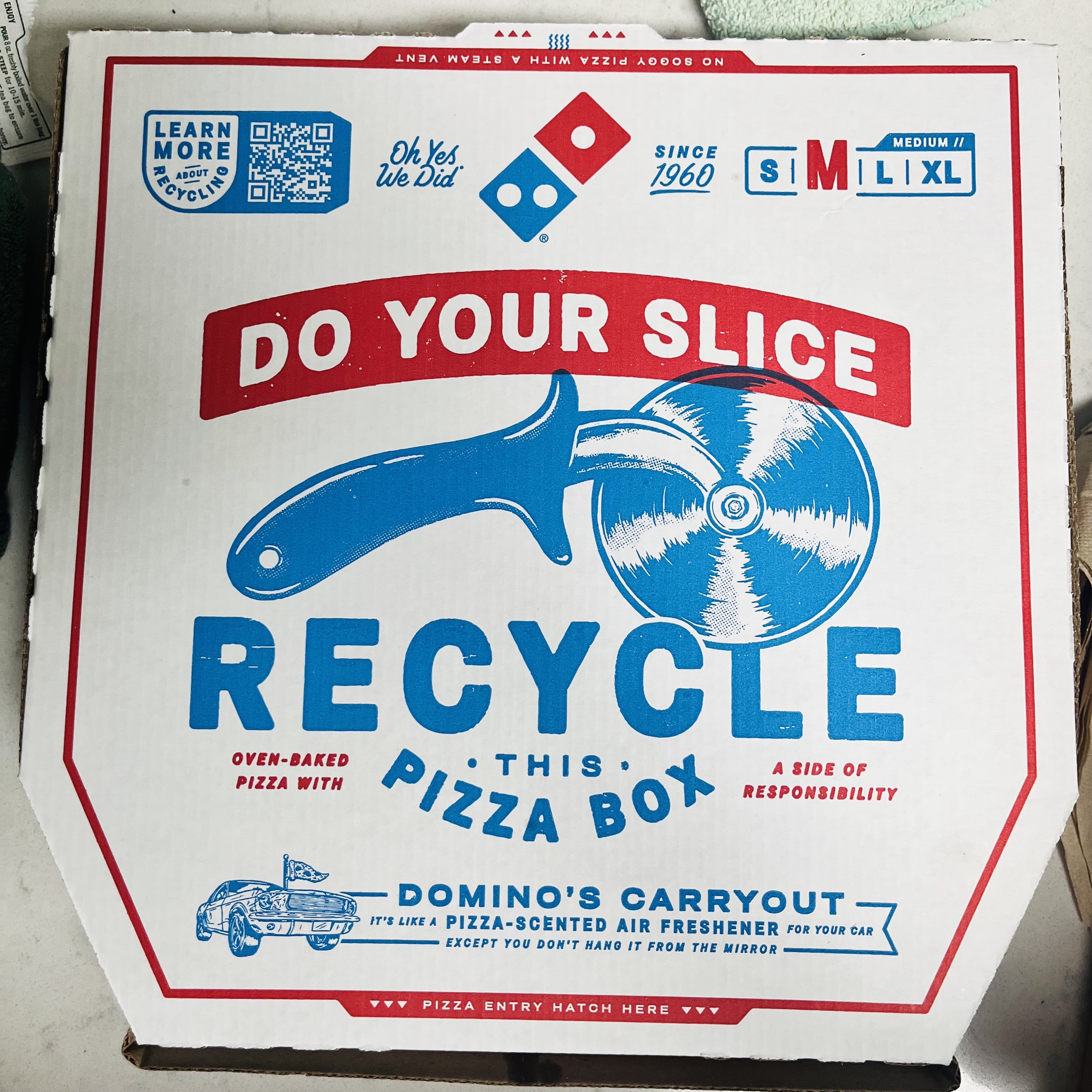 Domino's came very close to snagging the first-place spot but I'm just not a fan of that garlic-salt crust. Why does Domino's do that? Seriously, this pizza is full of salty-ass ingredients already: sauce, pepperoni, cheese, why did they feel the need to add more to the crust? I just don't get it.
This pizza has a lot of flavor, everything single topping is pulling its weight and combining to something greater than the sum of its parts, and then the crust comes in and makes the whole thing taste like a sodium bomb.
The Bottom Line:
So close to being a perfect fast food pizza, but that single garlic-crust ingredient held it back for me. Maybe you'll like that, but I think it throws the balance of flavors off.
Find your nearest Domino's here.
1. Papa John's — Hand Tossed Pepperoni (Taste 1)
Remember when I said the best pizza you can find is probably from a local joint? Well, Papa John's comes the closest to tasting like a corner pizzeria. This pizza just tastes like a freshly baked pie should, the shape is slightly imperfect, the toppings are thrown on haphazardly, the dough has a great chew and a slightly sweet aftertaste, the cheese has a great balance of creamy and salty qualities, it almost tastes, dare I say, homemade and wood fired.
During the tasting, this one stood out as the best and none of the subsequent slices ever took its place. Of the five, this is the only one I had the desire to go back to for more.
The Bottom Line:
This Super Bowl Sunday, if you're bringing pizza to the party, our vote is for Papa John's.
Find your nearest Papa John's here.