In a rather dramatic turn of events, a Nigerian lady reportedly rejected the expensive gifts she received from a man on Valentine's day.
A video circulating online shows the moment the lady angrily turned down the gifts after being told who sent them.
The surprise company contracted by the sender had paid the lady a visit, and first gave her a gift box containing a luxury wristwatch.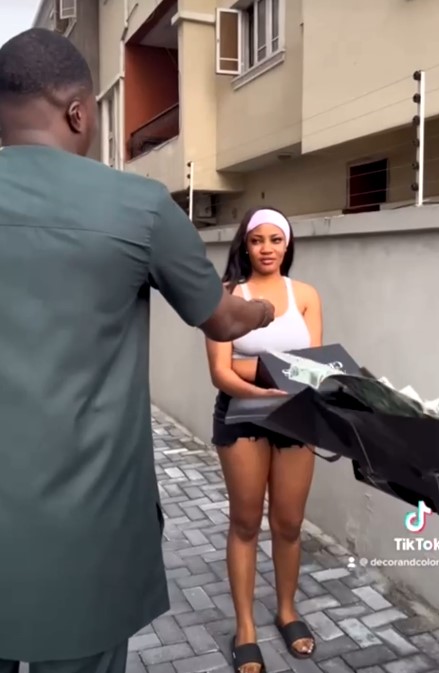 She was then led outside the compound to see a brand new Range Rover sent by her admirer, which was decorated with red ribbons. She also received a bouquet of newly designed N500 naira notes as a gift.
However, things took a different turn when the identity of the anonymous sender was revealed. When she heard the name, the lady became enraged and stomped away, leaving everyone confused.
Watch the clip below,
In other news, a Nigerian couple, Sandra and Ope, have become an internet sensation for their creative and humourous Valentine's day photos.
In 2022, the married couple went viral after posting a hilarious photo of themselves shaking hands with serious expressions on Valentine's Day.
Well, the couple has gone online to give an update on their lives, with their 2023 valentine's day photo taken in the same location as last year's photo.
This time, they have a new addition to their family, as they welcomed a baby boy between Valentine's Day last year and this year.